Structure and Principle
Decenter centrifuge is continuous centrifugal separator which does not use filter media like screen.
Slurry is fed into high speed rotating bowl and separation by specific gravity difference is made under higher centrifugal G-force.
Sedimented solid cake is conveyed to discharge side by screw which rotates at different speed from bowl speed. Cake dehydration is made at conical section of the bowl and discharged.
Mother liquid is over flowed and discharged from cylindrical bowl.
In addition to above, screen bowl type has dehydration and cake washing function on screen section.
Features
【High through put】
High solid through put is achieved with small space requirement by fully continuous operation
【Stable separation performance】
Solid bowl type does not have screen, Then, clogging problem of solid -liquid separation equipment is eliminated.
【Cake washing function available】
By screen bowl type, cake washing function can be applied at screen zone.
【Gas tight construction】
Easy maintenance special gas tight seal can be applied. This seal mechanism has many experiences in separation of slurry includes organic solvent.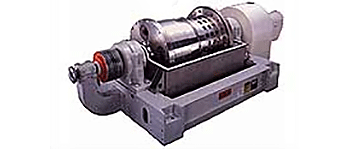 Applications
【Synthetic resin】
PVC / POM / HDPE / PPS etc.
【Organic chemicals】
BPA / p-Xylene etc.
Related field & technology
Chemicals field

Decanter centrifuge is employed widely in our chemical manufacturing equipment for non-organic/organic.

Drying

Decanter centrifuge is employed before our team tube dryer in various process.